"We have shown that we are customer-oriented and flexible. And I am convinced that these core values will only become more important in the future. But if we want to maintain and increase our market share, we have to get more and more creative. Our ambition is to be the best in class shortsea terminal in Europe within a few years," reveals CCO Jeroen Zwijnenburg of Rotterdam Short Sea Terminals (RST).
Rotterdam's Waal-Eemhaven is home to Europe's largest shortsea cluster, the City-terminal. Combined with the high concentration of cooperating (shortsea) terminals and shortsea service providers, the cluster guarantees fast and reliable transport and transhipment of goods within Europe. Rotterdam also offers the largest network of feeder services connecting to international liner services and a direct connection to deep-sea liner connections with more than 140 international ports. Indispensable in this cluster is Rotterdam Shortsea Terminals, Europe's largest hub for dedicated shortsea shipping, with a capacity of over one million TEU per year.
Ideally located
One of RST's key strengths is its location; forty kilometres inland, in the heart of the port of Rotterdam and close to important hubs connecting to the hinterland. There is an internal connection to Rotterdam's largest rail terminal (Rail Service Centre Rotterdam- RSC). And the A15 motorway is literally around the corner. This excellent location and the tri-modal connection via rail, road and inland waterway are essential for efficient and fast handling. As is the wide variety of destinations; RST is an important hub for North Africa, the Iberian Peninsula (Portugal and Spain), UK & Ireland, Scandinavia and the Baltics.
Rotterdam Shortsea Terminals in Eemhaven seen from above
The terminal handles containers for around 20 shipping companies, including Samskip, BG Freight, Containerships, Eucon and Unifeeder. "Every week we connect around seventy ports in 18 European countries. The frequency is high; on average there are 50 to 55 departures," Jeroen Zwijnenburg, CCO at RST, explains.
Fast and flexible
Efficient and fast handling are crucial for RST, Zwijnenburg points out: "Only if cargo reaches its destination quickly can we compete with other modalities. A lot of cargo is therefore delivered to here when the ship is already at the quay, or even on the day of shipment. Some of the containers never even touch ground."
Equally important is the high degree of flexibility and the high level of service. "Those ingredients make us the reliable partner our customers have been counting on for years, and are the basis of our growth," Zwijnenburg states. Within the City Terminal cooperative, RST also works closely with RSC (rail hub), Kramer (empty depot), Neele-Vat (cross-docking), Lineage (refrigerated hub) and Matrans Rotterdam Terminal. "By jointly offering a product, our value proposition only gets stronger," according to Zwijnenburg.
Unique cluster
The cooperating partners use, for example, a joint gate, developed in close cooperation with Port of Rotterdam Authority and Certus Automation, for fully automated handling of truck and rail containers. All incoming containers are pre-notified via the Port Community System of Portbase. Upon arrival at the terminal, nuclear detection takes place and the containers are at the same time scanned. When the driver reports at the gate, all data is automatically checked and the driver receives further instructions.
"Thanks to this automated processing, the risk of human error is eliminated. Moreover, the process is more secure. And, last but not least, automation adds to speed and efficiency. The average gain on visit time is 35 to 40 minutes per truck. Count your winnings at 360,000 truck visits per year," Zwijnenburg summarises the benefits.
Disruptions
Still, the CCO knows they are not there yet. The market can be fickle, he knows: "In recent years, we have seen several major disruptions. If we want to maintain and increase our market share, we have to get more and more creative."
Brexit and Covid, for instance, had a viscous effect on operations at RST. There were fewer movements, while the terminal was constantly at a high utilisation level. By acting as an extended gate for the Maasvlakte terminals, and temporarily storing congestion containers, RST managed to cushion much of the blow.
Russia sanctions, as a result of the war in Ukraine, are also having a serious impact. Whereas St Petersburg was always a very big destination, the number of containers decreased by 75,000 to 100,000.
"It is not the case, by the way, that these disruptions have a purely negative impact," Zwijnenburg adds. "Whereas Britain used to be our biggest market, thanks to Brexit, the volume to Ireland has grown substantially in recent years. The war in Ukraine has resulted in the fact that we now see much more cargo flows to the Baltic states. Moreover, the European market is still growing. Not as fast that we will be able to compensate for the loss of cargoes to Russia in one go, but the shortsea market will recover from that blow as well."
Filled with confidence
Zwijnenburg is accordingly confident towards the future: "We have shown that we are customer-oriented and flexible. I am convinced that these core values will only become more important in the future."
The CCO cites the connection with the hinterland as one of the important themes of the moment. "To remain relevant and successful, we need to work not only with our customers, but with our customers' customers. By sharing more information with the hinterland, we can align processes in the supply chain even better. Digitalisation is therefore becoming increasingly important," Zwijnenburg states. With the recently launched Port Alert pilot, RST is taking a big step in the right direction. Port Alert will include a dynamic queuing system that gives transporters more insight into the level of congestion at RST, so capacities in the chain can be further optimised. RST also recently introduced a 24/7 data department, for quick and clear communication with customers. At any time.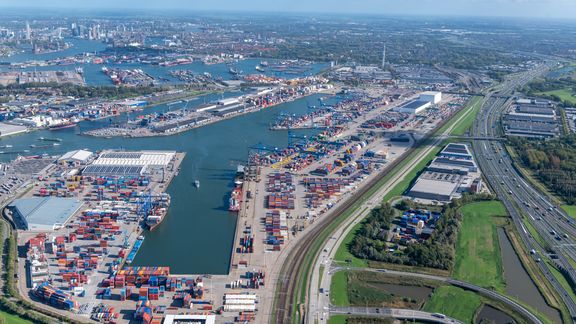 The project that started in May 2022 with City Terminal partner RSC is another example of the continuous quest for optimisation. Based on a RST initiative to engage a Six Sigma Black Belt specialist, the partners formed a 10-strong team to perform in-depth analysis on operations and to eliminate inefficiencies in the connecting shunt between both terminals. "Together, we have focused on the shunt to make sure units reach the ship or train they are booked for," Zwijnenburg explains.
Key performance improvements have already been achieved, especially by eliminating misinterpreted through-transport instructions passing between the parties, and by firming up and aligning procedures. Other gains have flowed from a better definition of closing times/peak traffic hours at each terminal, and by escalating awareness when shunting assets are under-utilized. Over 98% of containers are now meeting allocated ship or train slots, while new procedures are also prioritising corrective action where slots are missed.
Zwijnenburg: "Of course, 100% is the ideal, but the focus is practical: procedures and communication need to improve so that the overall performance gains are permanent. We have now implemented significant improvements in data flows and processes to ensure that shunt operations support the highest performance standards."
Sustainable and socially responsible
Besides its continuous drive for innovation and optimisation, RST obviously also focuses on sustainability. Zwijnenburg: "Sustainability is inextricably linked to our long-term growth. We try to systematically embed sustainability in our operations." In doing so, RST strives to work closely with customers, who are increasingly transporting loads by barge instead of truck.
One of the key drivers for a sustainable future is the significant reduction of CO2 emissions. For RST, the CO2 footprint in 2020 was equivalent to 66,500 return flights from Amsterdam to Paris. Offsetting that would require 850,000 trees. "Each container handled at our terminal involves 21 kg of CO2. By 2025, that should be less than 10 kg," Zwijnenburg concludes.
At its own terminal site, RST is investing in solar panels and a large charging station project in the short term. "Our own vehicle fleet will be electric and we are also looking at further electrification of our equipment for the terminal. In addition, we are focusing on preventive maintenance to minimise downtime and increase the deployability of the equipment. And together with the Port of Rotterdam Authority, we are exploring shore power options," Zwijnenburg adds.
Corporate Social Responsibility is also a strategic focus for RST. "As Europe's largest storage and transhipment terminal for shortsea vessels, it is our duty to further increase our role in society, and the impact we can make. We take responsibility for the effects of our activities on people and the environment. These themes have already been important in recent years, and we have also taken the necessary steps," Zwijnenburg indicates. "Our ambition is to be the best in class shortsea terminal in Europe within a few years."
The energy goals for 2025 are equally clear: more than 75% green energy, at least 5 operational diesel vehicles replaced by clean, electrically powered alternatives, at least three quarters of all transport and lease cars electrically powered and more charging stations. RST has also expressed its ambition to actively participate in hydrogen initiatives for future equipment.